All of our listings are privately owned and most are used for hunting by the owners and guests frequently. For your safety and the owner's and guest's privacy please call a McDill Real Estate agent before entering any property. Orange hat or vest is recommended in deer or turkey season. Gates are usually locked so ask for a key or combination.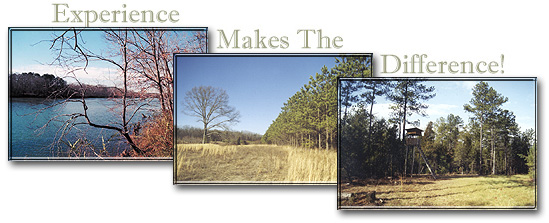 McDill Real Estate has been in business in Greenwood since 1979. In helping clients and customers buy and sell a wide variety of real estate, we have gained experience from the mountains to the coast of South Carolina and most counties in between. Residential, commercial, industrial, farm, timber and recreational properties have always been in our inventory. We have a proven record of success in marketing all of these. But our special interest and expertise is in rural land in the upstate, especially in Greenwood, Abbeville and surrounding counties.




We all live on or own farms in the upstate and understand the concerns and needs of buyers and sellers. When it comes to our business we "practice what we preach". Investments in farm and timberland in South Carolina have been good for our families and us and we enjoy helping others participate in similar endeavors.
John McDill: 30 years as a broker with a background in farming and timber production. John lives on the family farm in north Greenwood and Abbeville counties. This and other nearby tracts are managed primarily for timber and wildlife. Other interests include hunting, fishing and Edisto Beach.
Bill Robinson: 18 years as an agent specializing in rural land with a background in agricultural lending with the Federal Land Bank. Bill lives in Greenwood and owns and operates a cattle and timber farm in Greenwood and McCormick Counties. Other interests include hunting and fishing.
Terri Stone: 7 years as an assistant and 10 as a licensed real estate agent specializing in rural homes and farms. Terri and family own and live on a farm in Abbeville County with horses, cattle and timber. She also enjoys fishing, camping and gardening.
Chris Redding has a forestry degree from North Carolina State University and two years experience as an agent specializing in rural land and timber. Chris and wife Stefani live on a farm in Abbeville County and are restoring an old family home. Other interests include hunting, fishing, and camping.
McDill Real Estate has been in business since 1979. Our objective is to determine the highest market value and best use of a property and then match that property with a qualified buyer. Our company provides a full range of real estate services, for both Buyers and Sellers. We have a commitment to maintain a high standard of excellence in all that we do and to establish a relationship of mutual trust and service with each of our clients. Our staff of experienced sales associates will pay close attention to every detail of your sale, from preparation to successful conclusion.


• Residential Sales
• Commerical Sales
• Lots and Acreage
• Market Analysis
• Relocation Services
• Investment Properties
---
Office: (864) 223-6060 Toll Free: (888) 462-3455 Fax: (864) 223-4966
500 Montague Avenue
P.O. Box 3188
Greenwood, SC 29648

Website Design and Hosting by
Protech